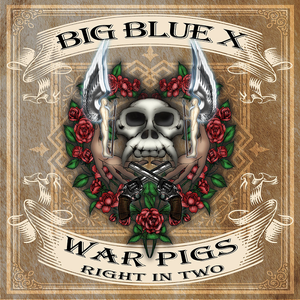 The "War Pigs (Right in Two)" single by Big Blue X was released on December 16, 2019. Recorded in Big Blue X's home studio, produced by Big Blue X (Brian vocals & keyboards, Carl guitars & keyboards). Made in Canada... except for the original songs, "War Pigs" by England's Black Sabbath and from the USA, Tool's "Right in Two". 
Big Blue X melded two classic songs into a medley. With an acoustic guitar as the foundation to Brian's voice and orchestral strings, synths and piano providing a cinematic soundscape. Brian's background vocals blend into the synths and strings creating a sonic journey.
Mixed by Justin Koop at B-Town Sound and mastered at Metalworks Studios by Chris Crerar. Artwork by Deborah Ann Cachia
War Pigs can be found on your favorite music  app and web sites. Music and lyrics.