Big Blue X has a new song, Pulses (Your Light). This song has character, check out the acoustic demo on our main site:
www.BigBlueX.com
We're going to re-record Pulses (Your Light) with the full band & some piano in September, the new version is more moody, it's quite different from the demo thanks to the new band members. To learn about the exceptionally talented new guys, John & Bobbyji read the updated
Bio
.
Below: Band pic from Ananda Fest, July 30, 2011. left to right, John (bass), Bobbyji (percussion), Brian (vocals), Carl (guitar & keyboards). Ananda Fest was awesome, we had a swim in the lake & played a fun filled set.
More pictures
from Ananda Fest.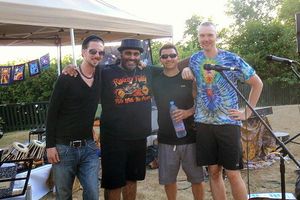 You can also find Big Blue X on:






If you've got something to say post it in our Guest Book, or reply to this email.
To subscribe to our email list click here.


Thanks,

Carl
www.BigBlueX.com
Facebook: www.facebook.com/BigBlueX